GREEMAX PSP Recycling Compactor
GREENMAX machines have a wide use in recycling polystyrene foam material. This series of machines have different hoppers, pre-crushers and sensors are available for all GREENMAX APOLO Series to optimize work processes and adapt the solution to the required application. The following is the use for PSP material.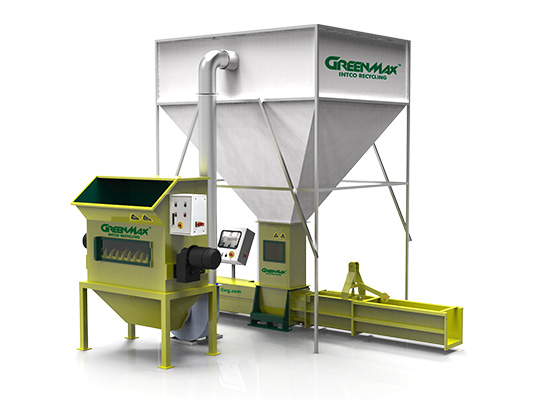 What's PSP?
PSP is short for Polystyrene Paper, which is produced by the extruding process as another plastic. At the beginning of production, the polystyrene resin pellets are needed to put into the extruder and need to be heated by electricity. The foaming process occurs at the end of the extruder. Finally, the plastic can be melted into polystyrene foam. Then Polystyrene Paper is extended and rolled like a paper roll. So that is why this material is commonly known as "Polystyrene Paper".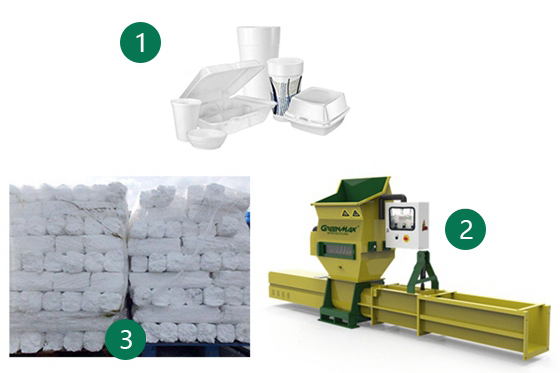 Where can we find PSP?
Usually, PSP can be at a lot of places. This material can be produced in any shape according to the mold by the thermal forming process. So you can see this kind of material from PSP food tray, polystyrene coffee cups, bow, and food box. So you can know the waste PSP material mainly come from food places and drinking places. So it is easy to find the PSP material has wide use in food packaging or drinking packaging.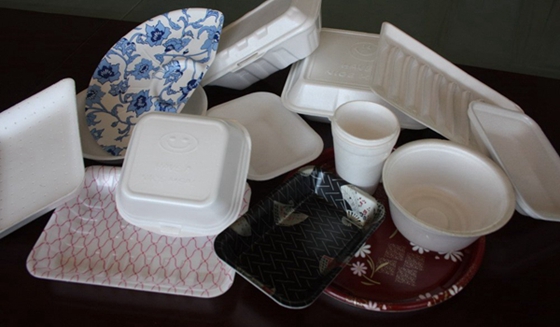 How to recycle PSP?
Only depending on people is arduous in handling and recycling PSP. Luckily, the APOLO Series machines can offer great convenience. So people who have so much PSP material can turn to machines for help.
So a large amount of PSP material can be handled with ease. The recycler can put so much PSP into the machine and then turn on the button to operate. Then the PSP material will be crushed into pieces, and with the help of machine pressure, the crushed PSP can be compacted tightly into the block. At the last, the scattered and compressed PSP can be pushed out of the machines as soon as possible.
Recycling benefits of PSP by using APOLO Series machines:
Easier to recycle and reuse the PSP material as machines need less people's help;
Less cost in labor and transportation;
More benefits will get from the recycling PSP with the help of machines;
Handle more PSP to make contributions to environmental protection.
Successful cases:
There are lots of successful cases and we have sold our machines to lots of countries. Now the following is a Canada company which have a rapid development as they can handle the waste PSP easily and effectively by our company's machine. The operation picture is below: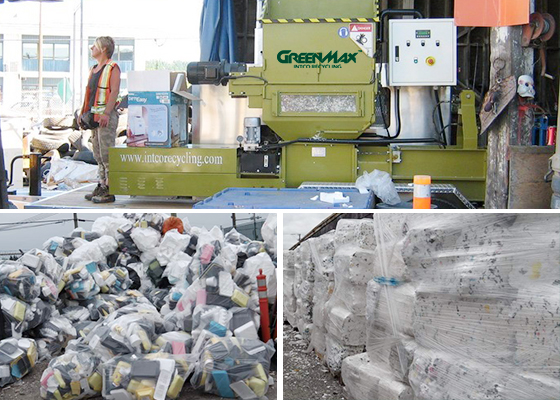 So it is easy to find the useful of our machines in the development of some companies related to food packaging, polystyrene coffee cups and so on.So it's time to take action to your company's future in the fierce competition.
APOLO Series
APOLO SILO SYSTEM
Throughput 300kg/h
Compression Ratio: 50:1
Compressed Density: 200-400kg/m3
APOLO C200
Throughput: 200kg/h
Compression Ratio: 50:1
Compressed Density: 200-400kg/m3
Total Power Consumption: 19.55kw
APOLO C100
Throughput: 100kg/h
Compression Ratio: 50:1
Compressed Density: 200-400kg/m3
Total Power Consumption: 10.25kw
APOLO SWD SYSTEM
Throughput 300kg/h
Compression Ratio: 50:1
Compressed Density: 200-400kg/m3