INTCO Manufactures GREENMAX Foam Recycling Machine
GREENMAX Machines was established in 2010. It focuses on researching and developing the EPS Foam compactor which is a kind of environmentally recycling machine. With 10 years of accumulative innovation, the GREENMAX factory now has 4 series as follows: APOLO, POSEIDON, ZEUS, and Mars. It now researches and produces EPS foam cold compactor, EPS foam hot melting machine, beverage dewatering machine, and so on.
APOLO SERIES:
GREENMAX foam compactor APOLP Series can compact all kinds of foam scraps and bulk foam scarps into a compact size. The compactor machine can compact the volume of Styrofoam as 50:1. It's similar to make a laptop become a small key on the keyboard. And the compressed density of EPS scraps is 200-400kg/m3. The compact size of the EPS is easy to transport and store in a warehouse. What's more, it is also applicable to materials including EPS, XPS, and PSP, like takeaway food containers and cups. The system of the Styrofoam compactor offers great convenience to you.
GREENMAX APOLO can comopact most PS foams including EPS, XPS and PSP.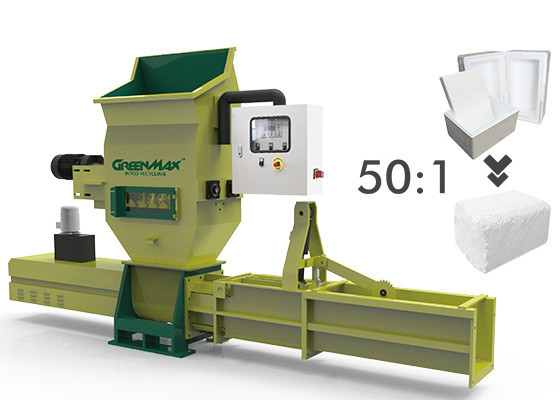 GREENMAX APOLO SILO SYSTEM: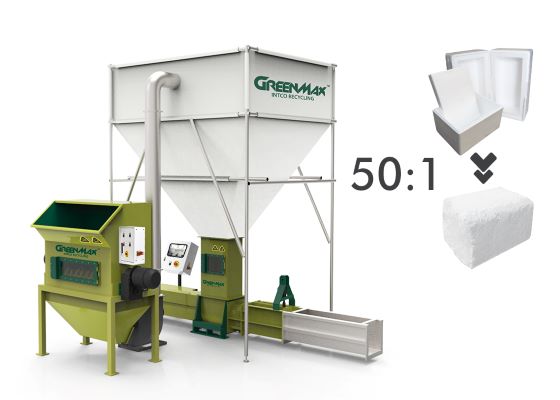 MARS SERIES:
GREENMAX foam densifier MARS Series provides a great method to waste foam recycling. GREENMAX Mars Series melting machine is a big scale machine for waste foam such as EPS recycling. foam densifier mainly for the expansion characteristics of foam. This machine has a built-in rotary cutter and hot-melting wire rod. It is first crushed into foam by a cutter and then heated by a hot melt screw at a high temperature. After melting, Foam will flow out like water, but after cooling, it will be as hard as a solid brick. We call it foam ingot.
The volume ratio of foam ingot to foam waste can reach 90: 1, saving a lot of storage space and transportation costs. foam densifier applicable materials are various, including EPE foam, EPS, EPP, and so on. GREENMAX foam densifier Series is developed to recycle such waste foam and make profits for your business.
GREENMAX MARS was designed for Hot Melting plastic foam like EPE, EPP, EPS, XPS and PSP.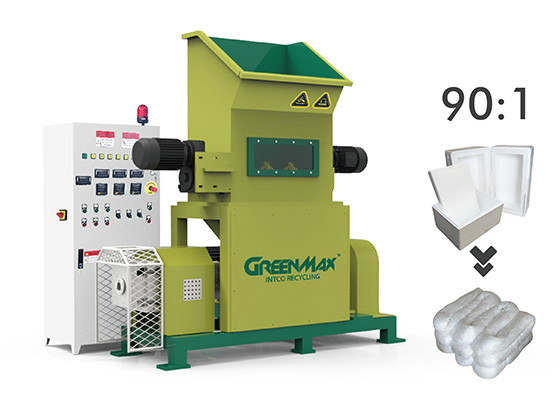 ZEUS SERIES:
GREENMAX foam compactor ZEUS Series is specially designed for Expendable Polyethylene (EPE) with surface melting technology which can perfectly solve screw compression issues. And the compacted foams inside wouldn't expand again. Also, ZEUS Series can handle EPS, XPS, and PSP efficiently and environmentally. The throughput of this compactor is 100kg/h and it can compact foam as a ratio of 50:1. And the compressed EPS&EPE density is 200-400kg/m³. So that the waste foam materials can be transported much more easily.
GREENMAX ZEUS can process a wider range of foam materials, such as EPE, EPP, EPS, XPS and PSP.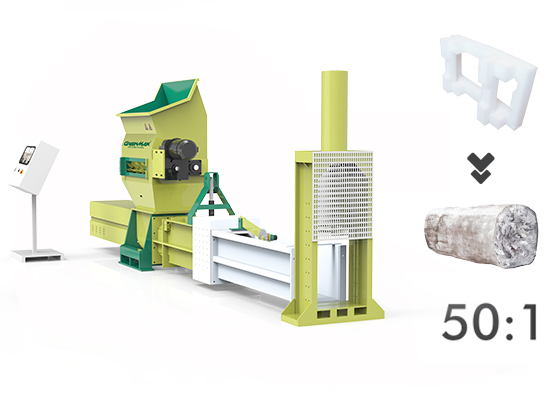 GREENMAX ZEUS SILO SYSTEM: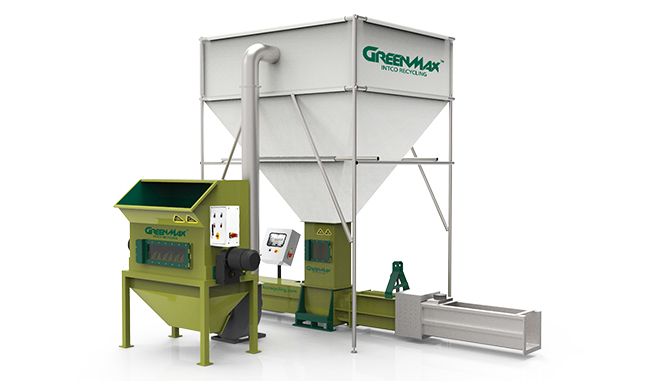 POSEIDON SERIES:
GREENMAX Poseidon series was designed to compact plastic containers like PET bottles, aluminum cans, etc. GREENMAX Poseidon series process the vast majority of beverage packaging. It is an efficient recycling machine for some manufacturers.
Poseidon series is specialized in de-watering and compacting beverage bottles and packaging recycling. Poseidon de-water helps dry PP/PE film flakes after the cleaning line and helps screw out water in containers. Applicable materials include PET bottles, aluminum cans, PP/PE films, beverage cartons, and yogurt cups.
GREENMAX POSEIDON was designed to Dewater & Compact packaging and containers (PE/PP Film, PET bottles, aluminum cans, beverage cartons and yogurt cups, etc.)