Polyethylene foam melting introduction:
a.General introduction:
Mars melting machine, a recycling machine, could handle various foam materials and melt them down to blocks. Mars hot melting machines are specialist for rigid polyethylene foam recycling, but the process need heat to melt PE foam.
b.Advantages:
Melted polyethylene foam is more clean and tidy;
Compared to foam recycling compactor, not easy to get scattered;
Have been sold to countries worldwide with proven and successful cases.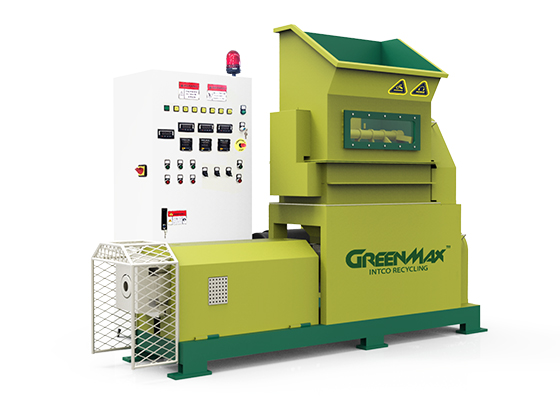 Processing procedure:
First, double shredding blades will smash waste polyethylene into scatters. Then, the machine screw will be heated and scattered polyethylene foam will be melted as well. Finally, melted polyethylene foam will be extruded from the slot with machine screw rotation. So scattered waste polyethylene foam are melted down to blocks after cooling.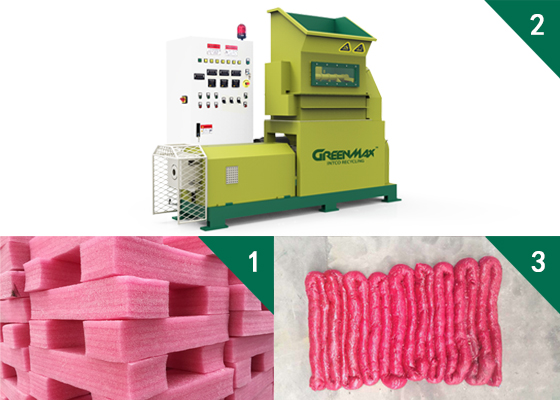 Successful case:
We have a customer from Eastern Europe recently, and we have tested several times in order to offer high-qualified polyethylene foam recycling machine. So now the machine have been shipped to our customer. The machine has come into use, meanwhile, the effect of waste hot melting polyethylene foam is perfect.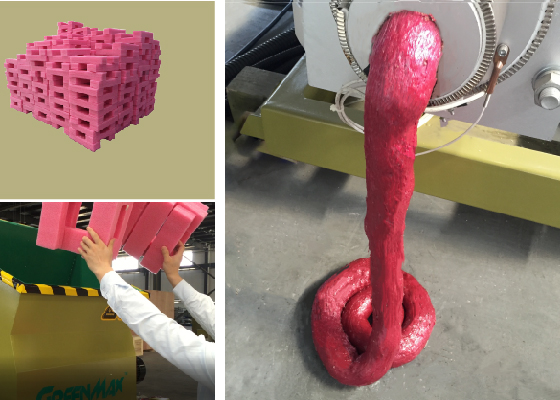 Polyethylene foam introduction:
Polyethylene foam, widely used in many fields, can be 100% recycled with durable and reusable features. Besides, it is an ideal alternative to traditional packaging materials, and can be used as a protective pad and thermal insulation material can be melted and turn to granulation. Polyethylene foam melting machine can promote the recycling of waste polyethylene foam. As a result, polyethylene foam recycling could be conducive to environmental protection and resource conservation.
MARS C100
Throughput 100kg/h EPE Compression Ratio: 90:1 Compressed EPE Density: 600-800kg/m3 Motor Power: 22.9kw
MARS C50
Throughput 50kg/h EPE Compression Ratio: 90:1 Compressed EPE Density: 600-800kg/m3 Motor Power: 7.5kw
EPE Recycling Video: