GREENMAX EPS/ Styrofoam Densifier Hot Melting Machines

Styrofoam(Polystyrene/EPS/Foam 6) is widely used for insulation and product protection material during transportation. The home appliance delivery and fragile transport need the Styrofoam material to prevent product damaging.The material often appears in our life in the form of furniture packaging, construction material, Styrofoam leftover and so on.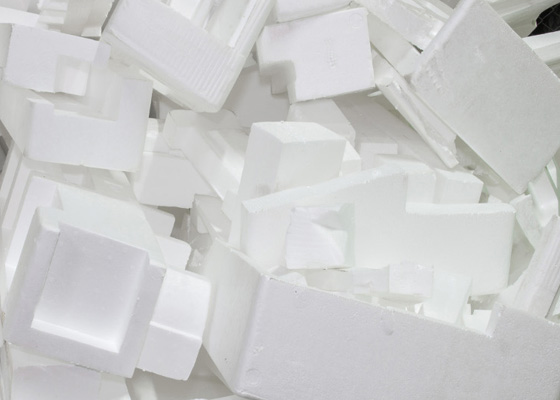 Recycle Styrofoam by Hot Melting Machine:
Styrofoam machine crushes waste Styrofoam into pieces and then the waste Styrofoam will be melted after heating. Then the melted Styrofoam material will be squeezed out and then will be shaped after cooling. At last Styrofoam, the material will be made into pellets. Here is another option to recycle Styrofoam(Expanded Polystyrene), that is GREENMAX Hot Melt Densifier.GREENMAX Styrofoam densifier Mar Series machine is a hot melting process.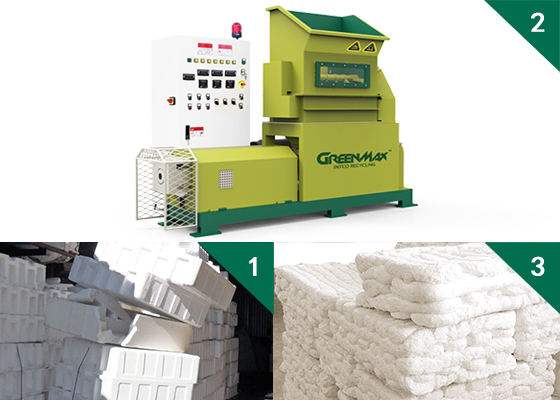 Recycling Steps of Styrofoam Densifier:
1.Feed Styrofoam(EPS foam) into the hopper for Crushing.
2.Large Styrofoam is Crushed into small pieces.
3.Melt Styrofoam by hot-melting technology.
4.Extrude melted Styrofoam ingots with screw.
Melting Effects of the EPS Foam Densifier:
After a process of shredding, heating, and extruding, the foam becomes the densified PS ingots, and volume reduction ratio up to 90:1. After a process of shredding, heating, and extruding, the EPS foam becomes the densified PS ingots and volume reduction.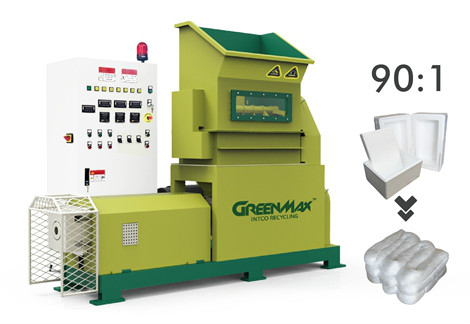 Why Choose GREENMAX Styrofoam Densifier:
1.Suitable for all kinds of foam materials, such as XPS, PSP, EPE, and EPP.
2.Occupy less space as Mars can melt the Styrofoam into dense blocks
3.Competitive price in market with high quality and excellent after-sale services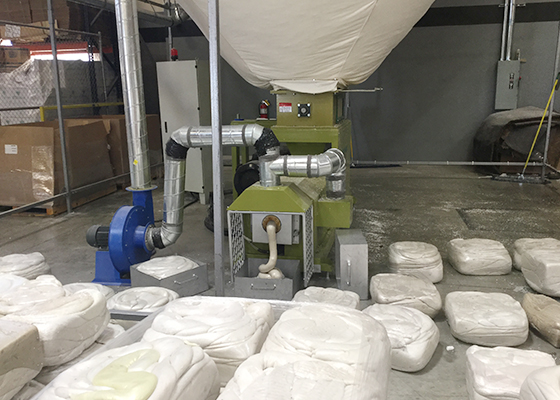 Functions of GREENMAX Styrofoam Densifier Mar Series:
1.Crushing the waste Styrofoam(polystyrene foam)and melt into tight ingots with a 90:1 compression ratio, which saves warehouse space.
2.After hot-melting, Styrofoam(polystyrene foam) can sell for reusing and making frame products and construction moldings, such as crown molding, wall panel, etc.
3.Keep more waste Styrofoam(polystyrene foam) from being landfills or burned.
4.Protect the environment, save raw material to reduce the energy crisis pressure and improve the pollution.
Service Advantages of GREENMAX:
1.GREENMAX are manufacturing many models with different outputs.
2.The machine can be designed as a requirement.
3.GREENMAX provide after-service in time, there are local engineers ready for support.
Benefits from Buying GREENMAX Machines:
As the biggest end use of recycled Styrofoam(EPS), all the recycled Styrofoam that produced by GREENMAX will be guaranteed to be bought back by us at a very good price.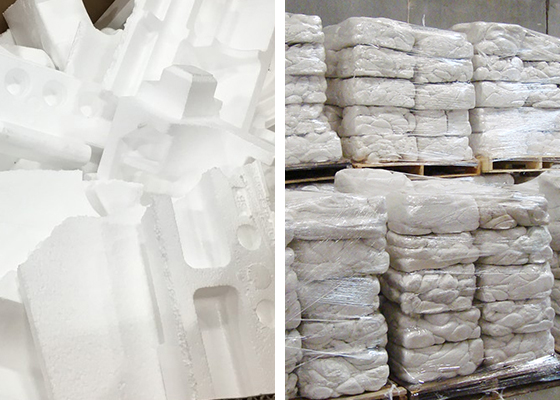 Successful Cases:
Case 1: Appliance Store and Syrofoam Recycling
As a local professional appliance retailer, Grand Appliance & TV was established in 1930 and growing very fast now. After moving to the new huge warehouse, Anish is thinking about improving their recycling rate, because their old densifier was too slow and not work properly.
In 2017, we met Anish and talk about his upgrade plan, he installed a GREENMAX styrofoam densifier in the new warehouse, no problem to recycle all his scrap. Over the past several years, due to the nice work of Styrofoam densifier, not only saving a lot of scrap landfill cost, to his surprise, saving a lot of labor cost. Only looking at the recycling profit, there is one load each month, the amount is almost $10,000.
Case2: Furniture Store and Styrofoam Recycling
As the #1 furniture retailer in the world, ASHLEY Furniture is leading every job they are doing, including styrofoam recycling part. With the advanced concept, ASHLEY has been doing recycling for around 20 years in all their warehouses.
Michael Kotlarz came to us in 2016 and wants to find a better solution provider, the current solution is not providing service anymore. Since that time, they are using GREENMAX styrofoam densifier in their DC. Michael has been working in ASHLEY for more than 30 years, and he started the recycling project from the beginning. Till 2020, GREENMAX has been working with ASHLEY for 3 locations, including California DC, Florida DC, and Chicago DC. Michael did do an analysis of effects, comparing the material profit, SAVING is the most valuable number, the total Saving cost statistics for the group is over $10,000 every year, and improving the warehouse efficiency at least 30%.
Case3: Styrofoam Cutter and Styrofoam Recycling
As a local professional packaging manufacturing company, Maven Packaging is manufacturing all kinds of packaging to improve customer's life, EPS foam is a necessary packaging. In their Alabama plant, they spent $2,000 per month to dispose of their waste coolers. In 2018, Bryan Clark came to us and said this waste problem take her lots of time, it's necessary to change another way other than landfill.
Maven Packaging installed GREENMAX Styrofoam densifier to recycle their waste Styrofoam scrap, and they are making one truckload every 2 months, get $5,000 value each month. Other locations also plan to study this recycling solution and improve its recycling rate.
Case4: Styrofoam manufacturing company and Styrofoam Recycling
Insulation Tech is a professional Styrofoam(EPS foam) manufacturing company from Massachusetts, They generate at least 4 trailers of foam leftovers each month, they used to send foam scrap landfill or some company can accept this scrap before 2019. As their business growing, Nancy Barone(owner) realized it's time to change the situation, otherwise, it took a lot of space before disposal, and should cost more and more landfill in the future. In 2019, Nancy got our information through another friend and looking for a more effective solution.
GREENMAX styrofoam hot melting densifier was installed in the warehouse in Sep, 2019, Nancy is no need to spend time thinking about the landfill cost and how to disposal. During past 1 year, they saved at least $15,000 landfill cost, and over $10,000 profit through selling the melted Styrofoam.
GREENMAX Styrofoam Recycling System MARS Series
Recycling System MARS C100
Throughput 100kg/h
EPS Compression Ratio: 90:1
Compressed EPS Density: 600-800kg/m3
Motor Power: 22.9kw
Recycling System MARS C200
Throughput 200kg/h
EPS Compression Ratio: 90:1
Compressed EPS Density: 600-800kg/m3
Motor Power: 37.5kw
Recycling System MARS C300
Throughput 300kg/h
EPS Compression Ratio: 90:1
Compressed EPS Density: 600-800kg/m3
Motor Power: 37.5kw