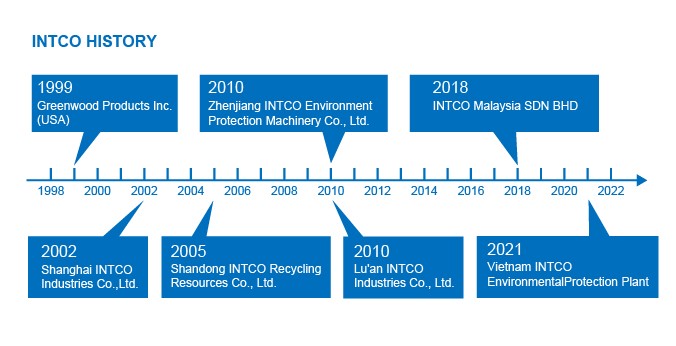 1. In 1999, we set up Greenwood Products Inc in the USA, it's engaged in the sale and service of molding and frames art products, also in the mirror, glass and other fittings.
2. In 2002, We set up Shanghai INTCO Industries Co., Ltd. We provide a Styrofoam recycling solution and reuse waste Styrofoam to produce molding and frame art products.
3. In 2005, we expropriated 2.5 million square feet of land in Zibo, Shandong province of China, and set up Shandong INTCO Recycling Resources Co., Ltd. Nearly 2000 workers use Styrofoam waste recycled from all over the world to make exquisite building materials frames, photo frames, and picture frames.
4. In 2010, we set up Zhenjiang INTCO Environment Protection Machinery Co., Ltd. We build efficient R&D, installed automatic producing instruments and assembly lines, improving the quality and professional service to match the needs of the international market. GREENMAX machine manufactured by INTCO Recycling could transfer the loose Styrofoam into the compacted one for transportation and storage costs saving.
5. In 2010, we set up Lu'an INTCO Industries Co., Ltd. Lu'an INTCO reuses Waste Styrofoam to produce photo frame, picture frame, mirror frame, and other related products.
6. In 2018, we set up INTCO Malaysia Sdn. Bhd that purchases Styrofoam all over the world and uses the Styrofoam ingots to produce Styrofoam pellets.
7. In 2021, Vietnam INTCO environmental protection plant starts construction.
INTCO Recycling is committed to Styrofoam recycling, regeneration, and application. Every year, INTCO recycles 100,000 tons of waste Styrofoam, which helps reduce 300,000 tons of carbon emissions.
GREENMAX offered by INTCO Recycling, not only manufactures Styrofoam recycling machines but also buys back Styrofoam Blocks and ingots. GREENMAXhas been sold to different countries for more than 10 years, and has been a Styrofoam Recycling machines specialist in the United States and Europe.